Become A Partner:
QuestionDoctors.com offers a specialized platform to help you manage the specific needs of your audience.
FOR BUSINESSES
FOR NGOs
FOR CHARITIES
FOR HEALTH PLANS
FOR HEALTH SYSTEMS
Offer your clients, employees, members and users free Doctor answers and free online Doctor video consultations.
Add a promotional service to your existing products, services or offerings – with free doctor advice – using a unique code attributed to your organization…doctor services and consultations can be adapted to your organization, products or services.
PRIORITY SPONSORED DOCTOR SERVICE
Doctor Consultations In Minutes With A Sponsor Code From Our Partners
Use our Ask A Doctor page and insert code when prompted to do so.
With a Sponsor Service Code, A Medical Question Receives A Guaranteed Answer In Minutes Free On QuestionDoctors.com
Free Sponsored Service Codes Now Available At:
DNAgenetica
Viotox
Amazon
Aliexpress
Alibaba

---
General Contact Form
Why should your organization become a Sponsor?
Increase sales. Improve Marketing.
Increase productivity through innovative health solutions
Empower your customers, employees or users to make better health decisions
Control costs by promoting Preventive Medicine
Provide important personalized medical advice for better all round health.
Minimize use of unnecessary OTC medications and costly services
Provide medical access to customers, employees and users world wide
Improve customer, employee and user engagement, satisfaction, retention and reduce absenteeism
Available Banners:
COPY and PASTE Code: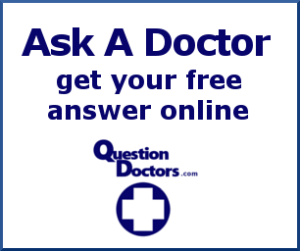 Let us help you find the best way to make QuestionDoctors work for you.
Contact Us Today!